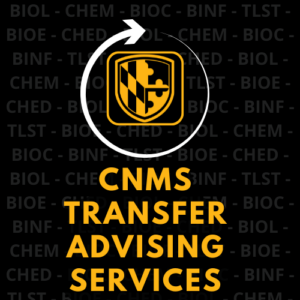 CNMS Advising offers pre-transfer advising to prospective Life Sciences majors (Biology, Chemistry, Biochemistry & Molecular Biology, and Bioinformatics and Computational Biology). Pre-transfer advising is an opportunity for perspective transfers student to…
Review Life Science major options
Discuss UMBC graduation requirements (ie. university, general education, and major requirements)
Determine outstanding graduation requirements
Understand UMBC policies and procedures
Receive course recommendations for coursework to be taken prior to transfer
To schedule a pre-transfer advising session, please follow this link. In order to have an efficient advising session, we ask that perspective students send their unofficial transcript to CNMSTransfer@umbc.edu at least 24 hours in advance of their appointment.
For further questions about transfer coursework and/or pre-transfer advising, please contact CNMSTransfer@umbc.edu.
Prospective Math, Statistics, and/or Physics majors, please follow this link to schedule an appointment with Ms. Desiree Sterling (Dsterling@umbc.edu), Coordinator for Pre-Transfer Advising.
Specific questions regarding the admissions process, deadlines, and application should be directed to the Undergraduate Admissions Office.